Being a member of...
Being a member of the Design or Construction Team in large scale projects like the ones I have participated, can only be characterized as a great asset for an architect. The education obtained when facing different kind of design and construction challenges, the experiences gained while meeting and working with wise people who come from all over the world, the intensity surrounding everyone before an important event, the joy of having been a part of a big project when revisiting it after years with your son, these are all irreplaceable feelings and knowledge, that contribute into the fulfilment of not only an architect but also a personality, in terms of philosophy, intelligence, expertise, judgement and wisdom…
Graphic Design and Illustrations
Combining text and pictures. Arranging type, form and image on any printed area; paper, porcelain, fabric. Starting with a piece of paper and a pencil, bringing to life logos, brochures, packaging. The work can happen at any scale, from the design of a single postage stamp to the exterior banner of a Museum. It can be intended for a small number of people, such as a one-off or limited-edition book or personal invitation, or can be seen by millions, as with a commercial product. You name it,
I will design it!




Architecture
Volumes, shapes, geometry, balance, space, move, stay, live, light, calm, functional, organized, adjustable, respectful, tasteful, beautiful, safe, personal, interesting…with respect to the surroundings. All of the above and a lot more, have a deep meaning to me as far as architecture, planning and constructing are concerned. But the most important is to combine all the insight an architect has with his client dream and needs…







Grecian Chic
Grecian Chic is a small independent brand designing and printing silk scarves, found in 2013. It features silk scarves, pocket squares and ribbons. The collections are inspired from Greece; from our history, our traditions, mythology and even everyday modern life. All of the designs are to their finest detail hand pencil drawings on paper before colour is added to bring them to life! The final drawings are digitally printed on 100% pure Twill silk and each scarf has a hand-rolled hemming finish. All products are made in England! The Greek Design meets British Craftsmanship! Visit the official website and explore our collections:
www.grecianchic.gr
Interior Design - Decoration
When I was a little girl I couldn't stay in a friend's house if I did not like it without really knowing what felt wrong every time. Later on, these feelings and memories helped me organize my thoughts and contributed to the ulterior purpose I have when designing or renovating an interior space: joy. Planning should be oriented, tidy, clear and functional. Three dimensions should bring light in a room, taste, balance, style, and life.
My favourite clients are children as apart from the above they also ask for happy colours!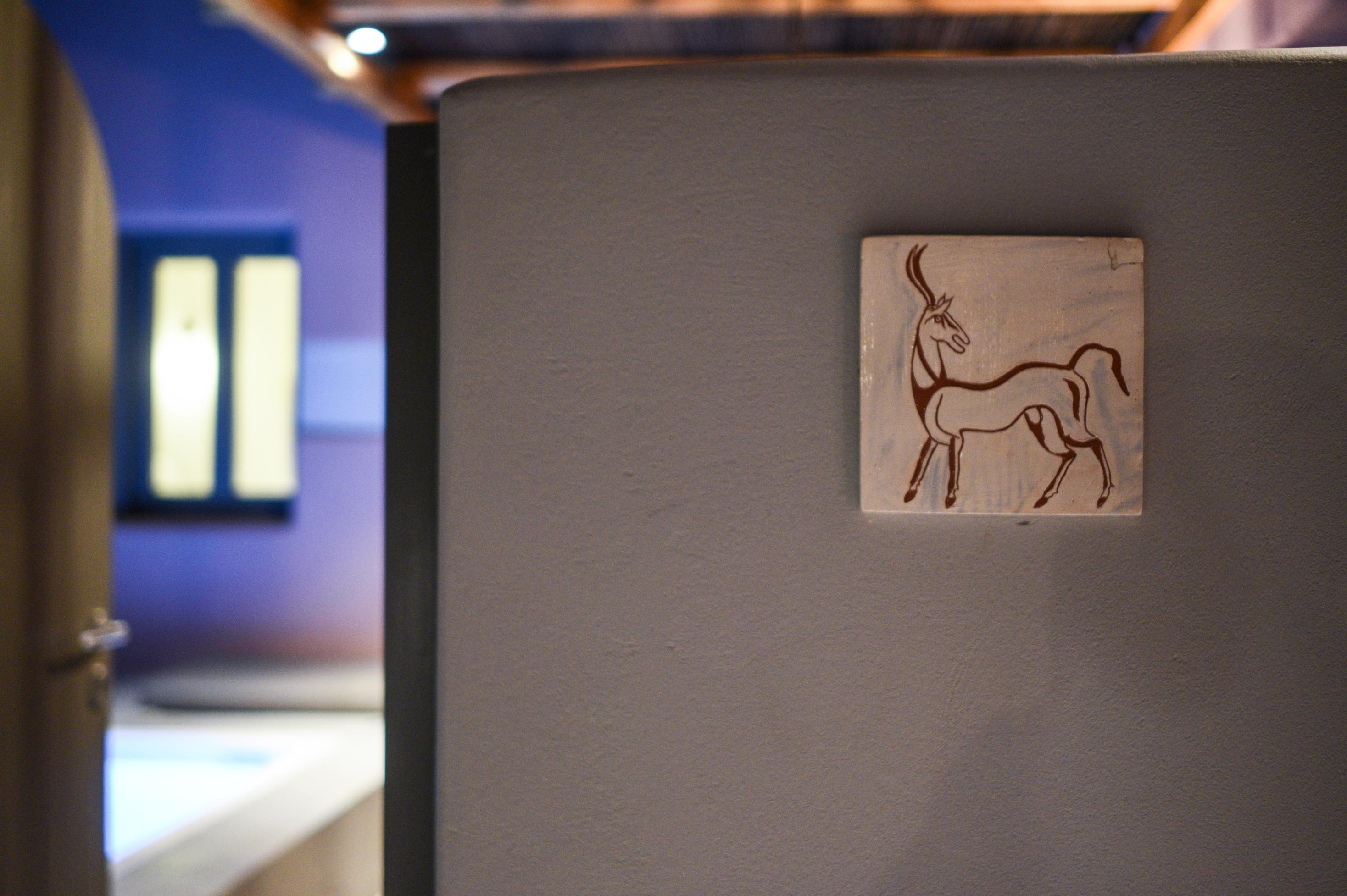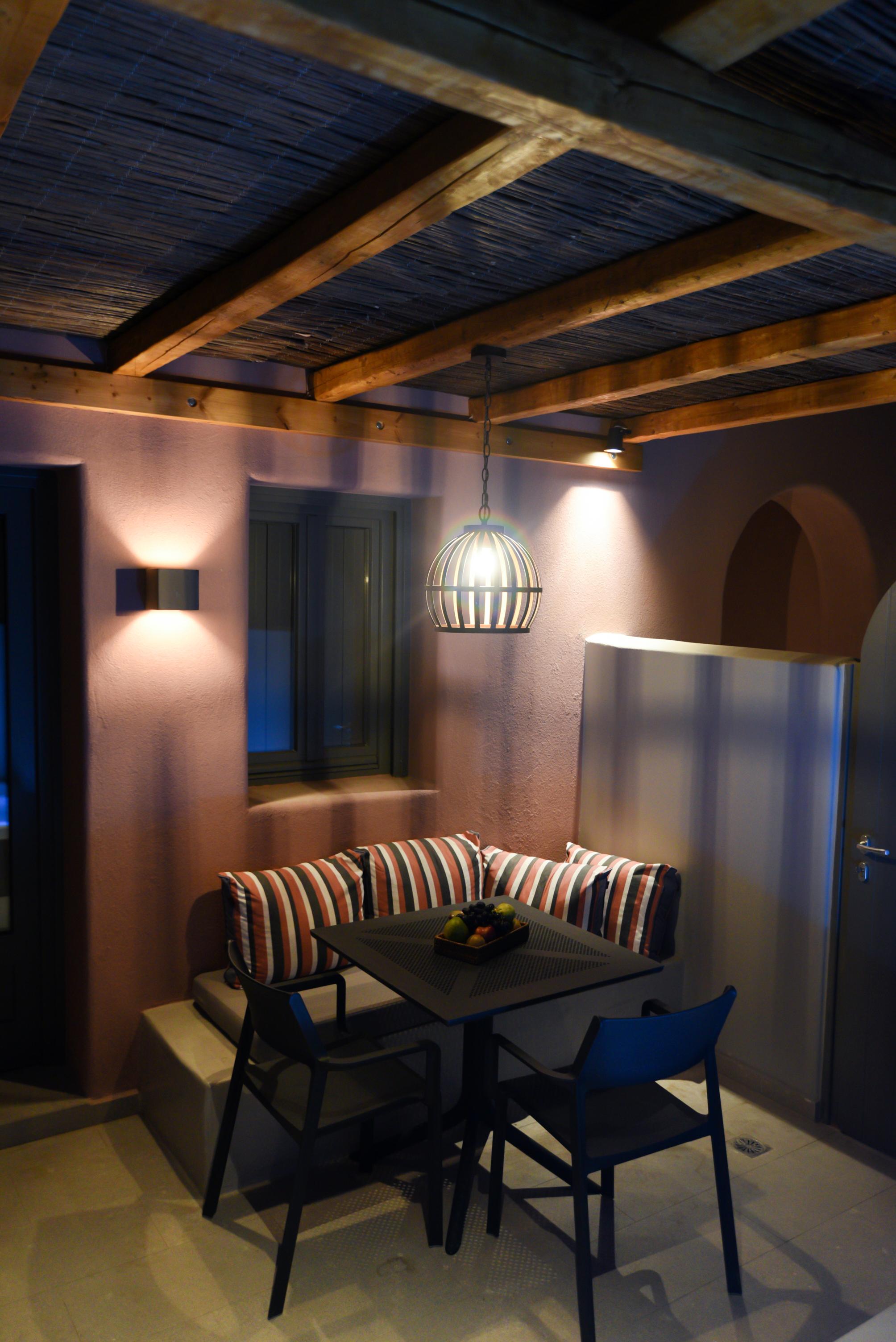 Terra Nera Boutique Hotel, Santorini, Greece
2019-2020
collaboration project with Nadia Rapti and Elena Zournatzi
The owners of an existing building set on the traces of a small tomato factory, decide to turn their property into a small boutique hotel.
Six different suites are designed in the narrow and long site, with a capacity of up to 4 people and a pool along them. Half of them have their own private yard with a Jacuzzi in it.
The theme of each suite is insprired of different themes of the Akrotiri frescos, in order to bring historical elements of the past to the present.  Artwork in each suite is also based on the frescos of lilies, papyrus, monkeys, fish, antelopes, and swallows.
The building is painted using red powder in the plaster as red and yellow used to be the two basic colours of wall painting in Santorini. This was due to its natural powder and to the Enetian influence on the island's architecture…


Photos by Maria Koukou
New Family House in N.Artaki, Evia, Greece
2018-2020
Architectural and Interior Design, Construction Supervision and Cost Control
A new house for a family of six, close to the sea. All in one level, with a very clear and functional plan. In an effort to control the construction cost, the lines are simple and so are the materials used. An intense colour game on the contemporary volumes of the exterior appears in the interior as well when designing the kid's rooms…
Collaborating with Christina Kritikou (civil engineer) and Christos Kritikos (3D designer)